---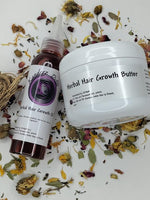 Hair Growth (BUNDLE)
Kandeez Delite Hair & Beauty LLC
Get double the growth with our hair growth bundle 
Herbal Hair Growth Oil: Our 4oz growth oil helps with growing back damaged areas on the hair from bald spots, breakage and over all hair growth.
Ingredients: Amla Powder, Che'be' Powder, Brahmi Powder, Moringa Powder, Herbal Hair Oil Mix, Coconut Oil, Olive Oil, Castor Oil, Black Castor Oil, Sweet Almond Oil, Peppermint Oil, Rosemary Oil, Tea Tree Oil, Lavender Oil, Frankincense Oil, Black Seed Oil, Hemp Seed Oil, Ylang Ylang Oil, JoJoba Oil, Avocado Oil, Macadamia Nut Oil, Pimento Oil. 
Herbal Hair Growth Butter: Our handmade butter is made with 100% natural ingredients no sulfates, no artificial oils we guarantee amazing hair growth. Our growth butter gives the same results as our Herbal Hair Growth Oil. Apply growth butter to the strands and use as a sealant after shampooing and conditioning the hair. Use our growth oil and growth butter for double the hair growth. 
Ingredients:  Shea Butter, Amla Powder, Che'be' Powder, Brahmi Powder, Emu Oil, Fenugreek Powder, Neem Powder, Herbal Hair Oil Mix, Coconut Oil, Olive Oil, Castor Oil, Black Castor Oil, Sweet Almond Oil, Peppermint Oil, Rosemary Oil, Tea Tree Oil, Lavender Oil, Frankincense Oil, Black Seed Oil, JoJoba Oil, Avocado Oil, Macadamia Nut Oil, Vitamin E Oil, Extra Dark Castor Oil, Grapeseed Oil,